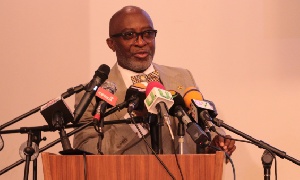 Chief Executive Officer of GIPC, Yoofi Grant

The Chief Executive Officer of the Ghana Investment Promotion Centre(GIPC), Yoofi Grant is demanding the enforcement or revision of the GIPC law which bars foreigners from engaging in retail trade in Ghana.
According to him, this will resolve the unending retail feud between Ghanaian and Nigerian traders which has resulted in the closure of Nigerian shops in the past few years.
Speaking to Joy News, Mr Grant said government could give some incentives and support to Ghanaian traders to make them competitive in the market.
He added that enforcement of the law would also bring an end to what is becoming a menace.
"The GUTA problem, by our laws the members of GUTA are right. The law says that you can't have a foreigner doing retail business in the market. They will be right to say that if there are foreigners doing retail in the market then they are breaking the law, on that score they are right."
"But if you look at it on a bigger scale can you create a platform such that GUTA people even benefit more, can you also incentivize GUTA so that they remain competitive so that you don't even need that law. Many countries have done it if you go to the US etc they give very subsidized loans and incentives to agriculture and you can't compete with them. Because at the end of the day you are looking at creating an economy where everybody benefits."