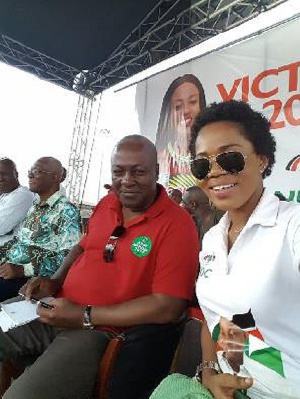 Member of the opposition National Democratic Congress (NDC) Belinda Nana Ekua Amoah otherwise known as Mzbel has exposed Leader of the True Word Prophetic Fire Ministries, Prophet Nigel Gaisie about his 31st December watch night prophecies.
She is, therefore, advising members of the NDC to focus on working harder in order to win power than rely on plagiarized prophecies from so-called men of God including Prophet Nigel Gaisie.
"My people (NDC & JM) let's focus on Hard work and Truth and Ignore all these so-called Men of God!! 70% of Nigel's Gaise Prophecy is from Mallam Sham-Una's private conversation with a few top people that Nigel knows… and even though the Mallam wanted to wait for a couple of research before putting figures out Nigel revealed the 52.1 % that the man didn't want to put out yet!!! More filla coming up soon including personal heartbreaking and shocking experience with Nigel Gaise" She said
Prophet Nigel Gaisie, in his 31st Watch-night service, had told Ghanaians that the Lord has already rejected the New Patriotic Party (NPP) government led by President Nana Addo Dankwa Akufo-Addo urging the opposition National Democratic Congress (NDC) to ready itself for power.
According to him, God is not pleased with the current government and therefore will ensure they lose the next general election.
"The Lord told me that he has rejected this government and that if we don't listen, we will go back to the days of 1983."
"The Lord said through John Dramani Mahama, he's going to place the nation at a good place. Every prophecy has an investment to make and if the NDC should plan, think and invest now, in the history of Ghanaian politics and in the history of prophecies in Ghana I don't think God has given any percentage to any Prophet. I saw that the NDC will win the next Presidential election with 52.1%." He claimed.