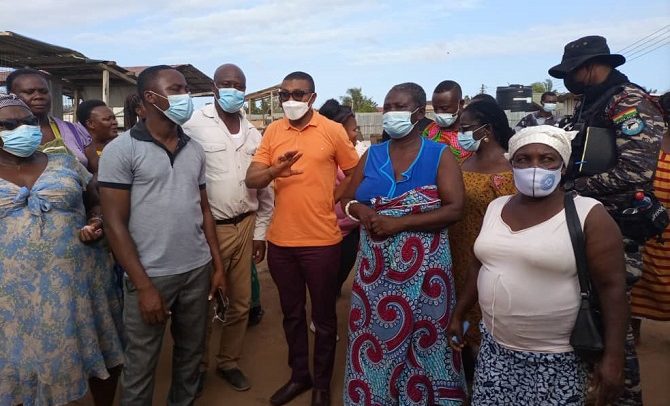 Prince Armah (middle) interacting with the constituents

The Member of Parliament (MP) for Kwesimintsim in the Western Region, Prince Armah, says he working hard to ensure that majority of the youth in his constituency acquire the requisite skills to enable them become self-sufficient.

"I want to ensure that lots of the young people in the area get the requisite skills that will enable them create jobs themselves," he said.
He said he is establishing a skills training centre at Mpatado in the constituency, equipped with the necessary machines and tools to train the unemployed youth to become self-employed.
This came to light when the MP visited the constituency and interacted with members of the area's branch of the Ghana Tailors and Dressmakers Association as well as some traders.
He said the facility would train the youth in the areas of cosmetology, welding and fabrication, carpentry and masonry among others, and encouraged more young people to venture into technical, vocational education and training.
Apremdo Market
At the Apremdo Market in the Effia-Kwesimintsim Municipality, the traders complained about low patronage by customers in recent times.
The traders, who have been selling at the market over a decade, attributed the situation partly to the alleged refusal by the Metro Mass Transit (MMT) buses to operate from a terminal created for them by the assembly at the market.
They explained that the assembly's decision to relocate some transport terminals, including that of MMT, to the refurbished Apremdo Bus Terminal has affected activities at the market because commuters are no longer coming to the place.
Briefing the MP on some of the challenges the traders faced, the market queen, Nana Esi I, called on the authorities concerned to let the MMT buses operate from the market to help attract more people to the place.
"Even though other transport services are being operated from the market, the MMT buses are those patronised by majority of people. So we want them back," she appealed.
She also said that another challenge being faced was the turning of Takoradi Jubilee Park into a market.
"Most traders at Apremdo Market have abandoned their sheds and relocated to the Jubilee Park and because of that people do not patronise the Apremdo Market," she said.
She, therefore, suggested that all traders selling at the Takoradi Jubilee Park and some unauthorised places in Kwesimintsim, should all be relocated to Apremdo Market.
"Why should the authorities use the Jubilee Park, which is a ceremonial ground as a market centre while there are available spaces at the Apremdo Market," she quizzed.
The MP promised to collaborate with the authorities concerned to ensure that the issues are addressed.