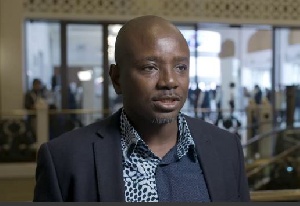 Chief Executive Officer for the GTA, Akwasi Agyemang

The Ghana Tourism Authority (GTA) has said it is rolling out plans to ensure Ghana benefits immensely from the Year of Return.
The government has dubbed 2020, "Beyond the Return", pursuant to the 2019 Year of Return which marked 400 years since the first slave ship left the shores of the then Gold Coast.
Hundreds of people have arrived in Ghana as part of the Year of Return programme.
Chief Executive Officer for the GTA, Akwasi Agyemang said investment opportunities will be explored from the visitors in a bid to develop the country.
"2020 we have a project – that is when we start moving out from people visiting to investment consideration to citizenship to a whole complex diaspora discussion on real estate and we also want to use this as a platform to improve upon the heritage infrastructure that we have."
"In 2019, we realized most of the people who came were taken to Cape Coast, Elimina but that is not where the story actually is. If you go to up North from Salaga, Assin Praso and Assin Manso that is where the real story of the slave trade can be told."
The "Year of Return" is a year-long event of the return of the descendants of the first enslaved Africans from James Town in Accra to James town in Virginia in the United States of America (USA).
'Ghana to make more money'
Kwaku Darko Ankrah, a historian has said the celebration of the Year of Return is putting Ghana in a position to rake in more revenue for economic development.
"If you look at official World Bank statistics, it shows that remittances from diasporans only are two and half times bigger than foreign direct investments. It has also shown that it is three times higher in official aid for African countries including Ghana. If you look at the amount that has come to sub-Saharan Africa alone, it grew by 9.3 per cent in 2017.
"In that year, it was US$ 42 billion but in 2018, it has moved to US$ 46 billion and in 2019, the World Bank said it was US$ 48 billion so in 2020, it will move to US$ 51 billion. Last year, Ghana made about US$ 22 million and if the Diasporan Secretariat has come out to say that it is around US$ 1.9 billion which is Year of Return alone without other visitations, then it is likely that we may move from the two digits to [more]."