The National Communications Officer of the NDC Sammy Gyamfi has described as 'mind-boggling' the Chief Justice's petition to the General Legal Council against lawmaker Dominic Ayine over his criticism of the proceedure of the bench during the 2020 election petition.

Mr Gyamfi in a Facebook post Thursday wrote: "In a democracy, every institution is subject to scrutiny and criticism, and the judiciary is no exception. Any attempt by the Judiciary to suppress dissent and victimize critical voices will be fiercely resisted.

"The comment in question is an opinion Dr. Ayine is entitled to, and does not impugn the sanctity of the judiciary in any way. That, such a harmless comment will warrant Dr. Ayine's referral to the Disciplinary Committee of the General Legal Council by the Chief Justice is mind-boggling".

Mr. Ayine is reported to have said the Supreme Court failed to apply the rules of procedure during the trial. He is also believed to have raised concerns over the regular dismissal of the petitioners' applications during the case.

He made the comments at an event organised by the Centre for Democratic Development (CDD) and the KNUST.

The petition urged the GLC to probe the lawmaker and apply the necessary sanctions.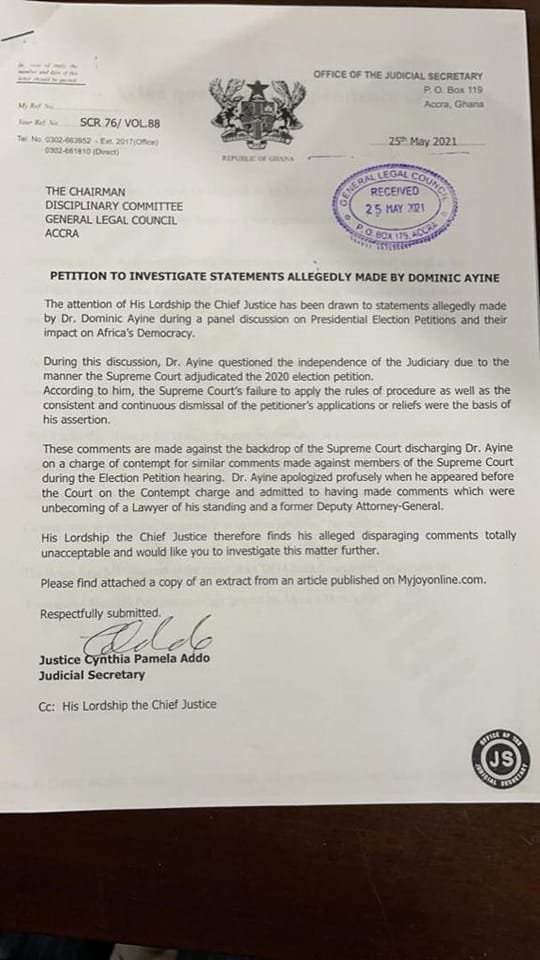 Reacting to the petition, the Executive Director of the CDD Professor Kwasi Prempeh said the move is dangerous to free expression by lawyers.

"So, now members of the Ghana Bar cannot offer a personal unflattering opinion of the judiciary on an academic, a civil society or other public discussion platfrom, even after a case has been decided, without risking being hauled before the Disciplinary Committee of the General Legal Council? Really?

"On the same platform where this lawyer expressed the opinion that has earned him an invitation to appear before the Disciplinary Committee of the legal profession's regulator, other panelists, including other lawyers, strongly disagreed with him in his opinion of the judiciary regarding the case under discussion, with some praising the court's handling of the matter. In other words, the platform on which the lawyer spoke was a veritable marketplace of ideas and opinion, with panelists debating each other in frank, open dialogue.

"This, incidentally, was a webinar discussion organized by CDD-Ghana, in collaboration with the KNUST law faculty, as part of a new "Judicial Review" series (a partnership between CDD and two law faculties in Ghana) that aims to review and examine decisions of the courts for their impact on democracy and good governance. This particular panel, which examined the recent Ghana election petition through a comparative lens, featured two foreign participants (from Kenya and Zimbabwe), four Ghanaian lawyers, and me," he wrote